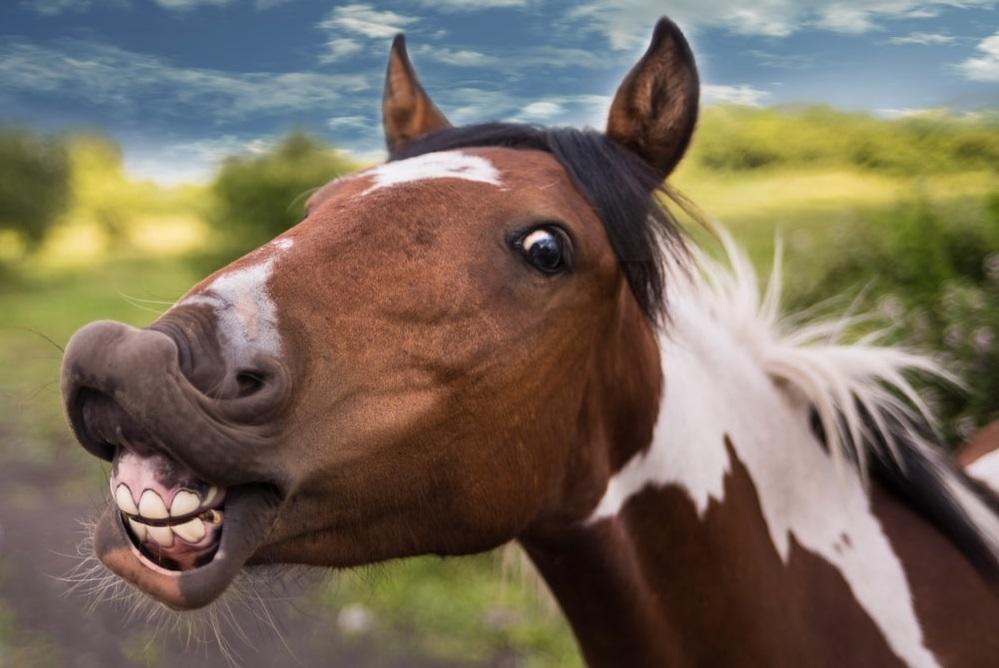 BY TYLER DURDEN via .zerohedge
While the media has spent more than a year ridiculing the widely-prescribed drug Ivermectin to treat Covid-19 – branding it a 'horse dewormer for idiots,' they've kept oddly silent about another widely prescribed drug that's also used in horses, which is being pushed by official bodies worldwide to treat the disease.
The NIH, CDC, WHO and FDA have all recommended dexamethasone – a corticosteroid which has shown efficacy in the treatment of severe covid. It's also a commonly used drug to treat allergies in horses.
The difference? One can be used to treat billions of mild-moderate cases – or as a prophylactic, while the other has a much more narrow use – those suffering from severe Covid.
As Twitter user @DoRtChristians notes: "The FDA recently told the public not to take life-saving Ivermectin because "you're not a horse""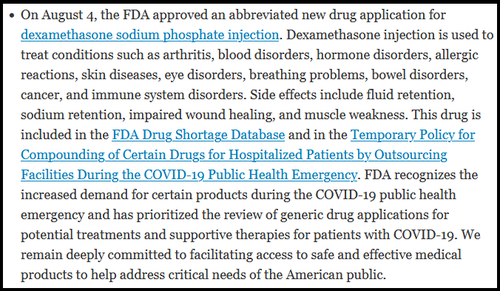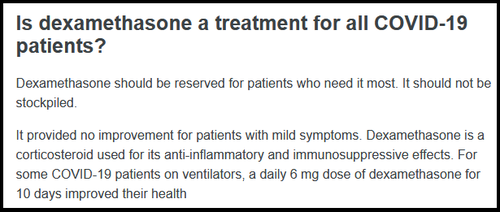 Yet;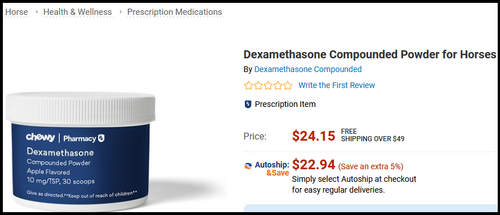 Per Google (via Wedgewood pharmacy): "Dexamethasone commonly is used in horses to treat allergic reactions such as respiratory allergies, chronic obstructive pulmonary disease (heaves), hives, itching and inflammatory diseases including arthritis."
But, but…https://platform.twitter.com/embed/Tweet.html?dnt=false&embedId=twitter-widget-0&features=eyJ0ZndfZXhwZXJpbWVudHNfY29va2llX2V4cGlyYXRpb24iOnsiYnVja2V0IjoxMjA5NjAwLCJ2ZXJzaW9uIjpudWxsfSwidGZ3X2hvcml6b25fdHdlZXRfZW1iZWRfOTU1NSI6eyJidWNrZXQiOiJodGUiLCJ2ZXJzaW9uIjpudWxsfSwidGZ3X3NwYWNlX2NhcmQiOnsiYnVja2V0Ijoib2ZmIiwidmVyc2lvbiI6bnVsbH19&frame=false&hideCard=false&hideThread=false&id=1429050070243192839&lang=en&origin=https%3A%2F%2Fwww.zerohedge.com%2Fcovid-19%2Fnever-say-neigh-fda-lists-horse-drug-approved-covid-treatment&sessionId=2b9f9b5d1e5aef08f3656b09becf820d5e53894d&siteScreenName=zerohedge&theme=light&widgetsVersion=1890d59c%3A1627936082797&width=550px
We can only assume that because official bodies are recommending dexamethasone – and because it's used in severe covid – a much smaller fraction of those looking at ivermectin as a prophylactic and early-stage treatment, the transitive properties of media outrage over people taking a 'horse medication' don't apply.
Ivermectin
This widely prescribed anti-parasitic which is also used in horses has shown massive efficacy worldwide in the treatment of mild and moderate cases of Covid-19, plus as a prophylactic. India's Uttar Pradesh province, with a population of over 200 million, says that widespread early use of Ivermectin 'helped keep positivity [and] deaths low.'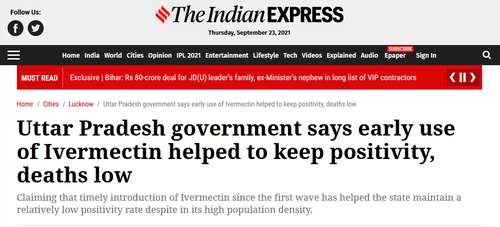 Separately, there have been several studies funded by the Indian government, primarily conducted through their largest govt. public medical university (AIIMS).
Role of ivermectin in the prevention of SARS-CoV-2 infection among healthcare workers in India: A matched case-control study (source)
Conclusion: Two-dose ivermectin prophylaxis at a dose of 300 μg/kg with a gap of 72 hours was associated with a 73% reduction of SARS-CoV-2 infection among healthcare workers for the following month.
Ivermectin as a potential treatment for mild to moderate COVID-19 – A double blind randomized placebo-controlled trial (source)
Conclusion: There was no difference in the primary outcome i.e. negative RT-PCR status on day 6 of admission with the use of ivermectin. However, a significantly higher proportion of patients were discharged alive from the hospital when they received ivermectin.
Clinical Research Report Ivermectin in combination with doxycycline for treating COVID-19 symptoms: a randomized trial (source, double-blind randomized, peer-reviewed)
Discussion: In the present study, patients with mild or moderate COVID-19 infection treated with ivermectin in combination with doxycycline generally recovered 2 days earlier than those treated with placebo. The proportion of patients responding within 7 days of treatment was significantly higher in the treatment group than in the placebo group. The proportions of patients who remained symptomatic after 12 days of illness and who experienced disease progression were significantly lower in the treatment group than in the placebo group.